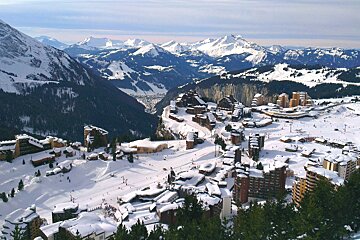 Where to stay in Avoriaz
Discover the top Avoriaz places to stay
You've made up your mind – you want to come to Avoriaz on your next holiday. As you research your trip, you'll discover that there's more than one town in the area and that they all offer a great selection of chalets, apartments and hotels. Accommodation is one of the biggest expenses when booking a holiday, so you want to make sure that you've chosen the right location. Worry not, we're here to help.
One of the most distinctive Alpine resorts thanks to its dramatic clifftop location overlooking Morzine, this purpose built resort is made up of wooden-clad apartments and chalets, is completely pedestrianised, and being so compact you are never more than a few hundred metres from the nearest lift.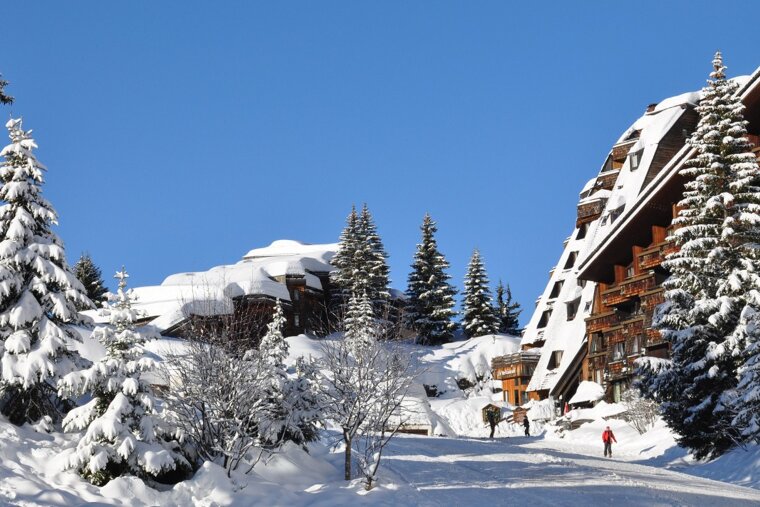 Five things to consider before deciding where to stay in Avoriaz
When it comes to booking accommodation in Avoriaz, there is certainly no shortage of choice. Whether you are looking for luxury hotels, chalets for large groups or apartments that are as close to the lifts as possible, you'll find it all here. This guide to the different sections that make up this superb area should help point you in the right direction so that you are situated as close to whatever action you're looking for. But, first things first.
Where should you stay in Avoriaz?
It depends on the type of holiday you'd like to have. It's always a good idea to know exactly what you're looking for: chalet or apartment, party or tranquillity, sporty or relaxed – a holiday in Avoriaz can offer all of these things.
These are some of the things you may want to consider in advance before you pick where you want to stay:
Distance to the pistes: Being able to ski to your door is everyone's dream – there's no better feeling than putting your skis on right outside your front door. The great thing about Avoriaz is that, no matter where you stay, you'll always be near the lifts. However, some places are closer to the pistes than others, although you should bear in mind that these very sought-after spots are usually more expensive than the places further away from the runs.

Quiet or bustling: Is après-ski as important (or more important) than the skiing itself? In that case, you'd want to stay as close to the bars and clubs in resort as possible. However, if you'd rather stay in after a day on the slopes and prefer to avoid the hustle and bustle of the centre, one of the charming buildings on the edges of Avoriaz is probably a better choice.

Amenities: Ask yourself what you'll need around you when holidaying in Avoriaz. For example, if you're self-catering, you probably want to be as close to the supermarkets and restaurants as possible, while those staying in catered chalets and hotels may not need to. Having shops, ski and/or bike rental places and cafés around you can be very handy but also quite noisy.

Things to do: As with amenities, not everyone will need the same services nearby. For example, families will want to be near the ski schools meeting points to avoid trudging across resort in ski boots carrying yours and your children's skis. Having the local swimming pool and sports centre close by is also a great idea for those coming with little ones, it'll keep them entertained after a day on the slopes. Or perhaps you need a spa for a good back rub or to soak your sore muscles in a hot tub after a few hours snowboarding.

Budget: Last but not least, location is key when it comes to saving money. Generally, the closer you get to the slopes and to the resort centre, the steeper the prices will be. You may have to sacrifice convenience for budget but worry not, you'll never be further than five minutes from the world-renowned Avoriaz pistes.
Our local team's top tip: When booking accommodation, take a good look at the photos. You're going to be spending some time in this space so you may as well feel comfortable in it. It's not just about whether you prefer a cosy rustic interior or a light and airy open plan space, but also whether the layout and décor fit your needs. Are the rooms big enough? How about the bathrooms? Is there a super-modern, steep staircase your toddler won't be able to climb? What floor is the apartment on? Is it accessible by a lift? All of this matters when choosing your accommodation and not everywhere in Avoriaz will be able to provide all sorts of styles.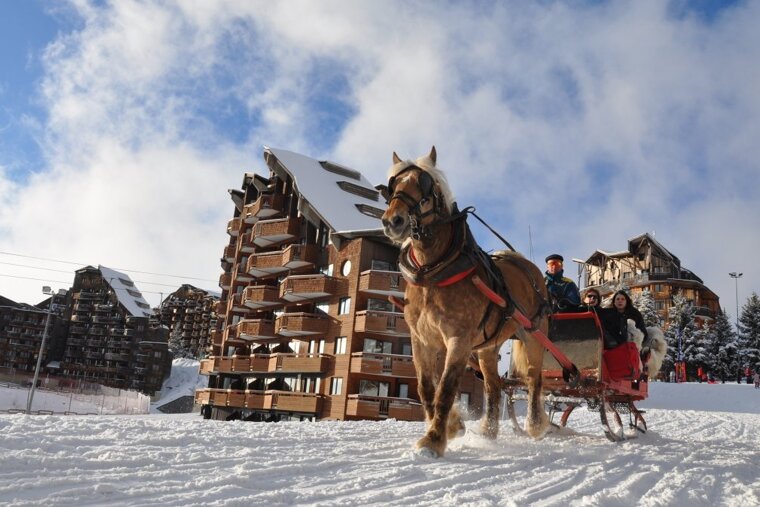 Avoriaz: Ski-to-door accommodation
Avoriaz, although relatively small, is divided into seven main sectors where most of its modern apartment buildings are situated. Amara and Falaise are located around the entrance to resort, by the car parks and the Avoriaz Welcome Centre. The town centre is the Festival area and behind you'll find the Crozats sector. Finally, towards the south, where the Prodains lift arrives, you can find Dromonts, Hauts-Forts and Ruches.
Who should stay in Avoriaz?
Anyone who wants to be right in the heart of the action, close to the lifts and also to the bars, restaurants and shops. No matter where you're staying, you'll never be more than a five-minute walk from anywhere else, which means that arrival and departure are really the only times when the location will make much of a difference to your stay in Avoriaz. As a car-free resort, most people arriving will either leave their car in one of the car parks at the edge of the town, where the Avoriaz Welcome Centre is located, or be dropped off at the top of the Prodains gondola.
From there, you'll have to transport your luggage to your apartment. There are snow shuttles, horse-drawn carriages and baggage sledges at the entrance points of resort and at most residences to make this easier. However, if you want to avoid the hassle, the Amara and Falaise areas are easier to get to from the car parks while the Dromonts and Hauts-Forts sectors are closer to the Prodains lift.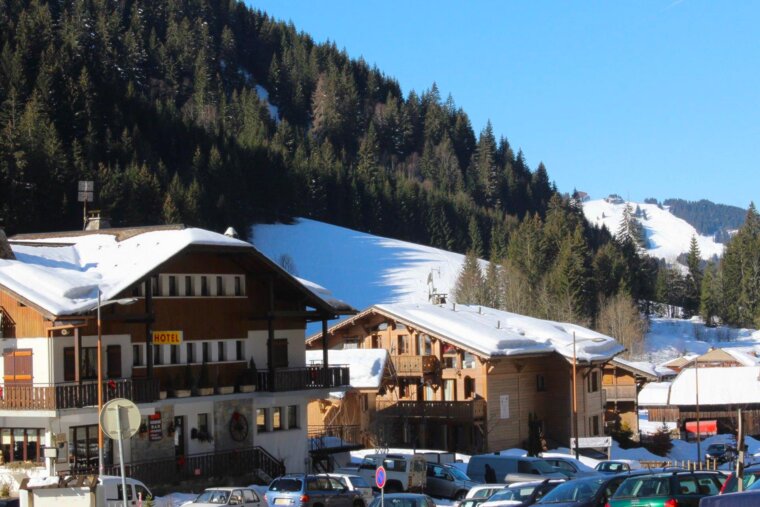 Les Prodains: Easy access to the Portes du Soleil
The small hamlet of Les Prodains lies at the bottom of the cliff upon which the village of Avoriaz is perched. Situated around five kilometres from the centre of Morzine, it serves as a gateway to Avoriaz as the 3S Prodains Express gondola departs from here.
Who should stay in Les Prodains?
Those looking to make the most of their Portes du Soleil ski pass. Les Prodains offers easy access to the high-mountain slopes of Avoriaz and its world-famous snow parks – the gondola takes just under five minutes to reach the top, but it's also relatively close to Morzine – a bus connects Prodains and Pléney in just 10 minutes. Whereas Avoriaz has mainly self-catered apartments, Les Prodains offers a good selection of chalets and chalet hotels, some of which boast ski-to-door access.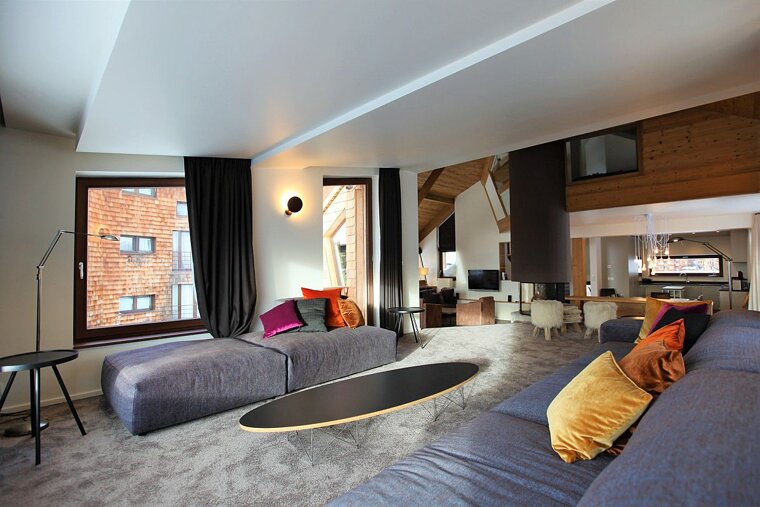 Luxury hot spots in Avoriaz
If you're searching for luxury accommodation in Avoriaz, you're in luck! The resort offers plenty of high-end options, some of which feature private swimming pools, spas, hot tubs and even cinema rooms.
Where are luxury apartments and chalets located in Avoriaz?
They are sprinkled all around resort. Right in the heart of Avoriaz and built in recent years, you'll find luxury apartment complexes offering high-end facilities like spas, swimming pools and restaurants. Our favourites are perhaps the buildings in the Amara and Falaise sectors, perched on the edge of the cliffs boasting great views down to Morzine and enjoying spectacular sunsets. These contemporary buildings display the same unique aesthetic that the original team of architects developed in the resort in the 1960s, some are even covered in Avoriaz's distinctive wood shingles, fitting in perfectly with the surrounding mountainous landscape. The same can be said of the local chalets – wonderfully modern luxury abodes with stylish interiors featuring five-star facilities with easy access to the pistes.
Are there any five-star hotels in Avoriaz?
There are no five-star hotels in Avoriaz. In fact, there are barely any hotels at all with only two on offer in the whole of the resort. Both of them, the pioneering Les Dromonts and the newly built Mil8, have four stars. Their luxury facilities include fully-equipped wellness areas, gourmet restaurants and breathtaking views.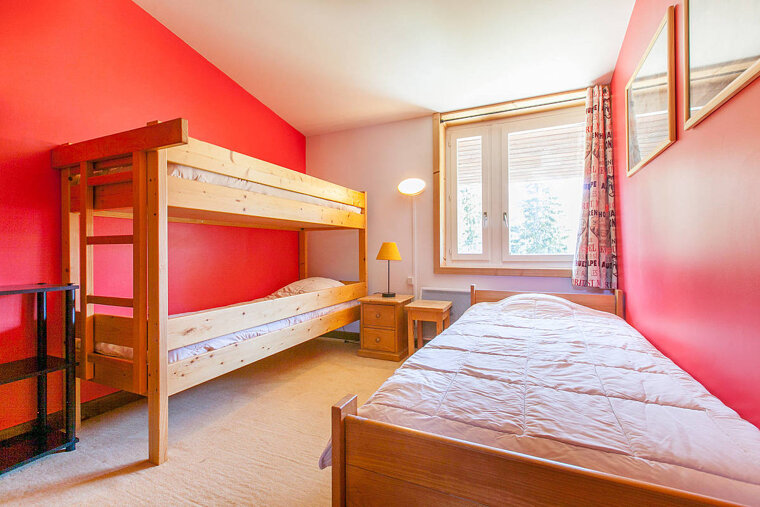 Family-friendly areas in Avoriaz
When travelling with young children, you ideally want to stay somewhere that has lots of facilities and services nearby so that you don't have to travel long distances to get to the slopes or the restaurants.
What's the best area for families with children to stay in Avoriaz?
Wherever you decide to base yourself, you'll never be more than a five-minute walk away from the resort's amenities. However, the apartments in the Festival sector are closest to the tourist office, the piste-side restaurants and the ski schools.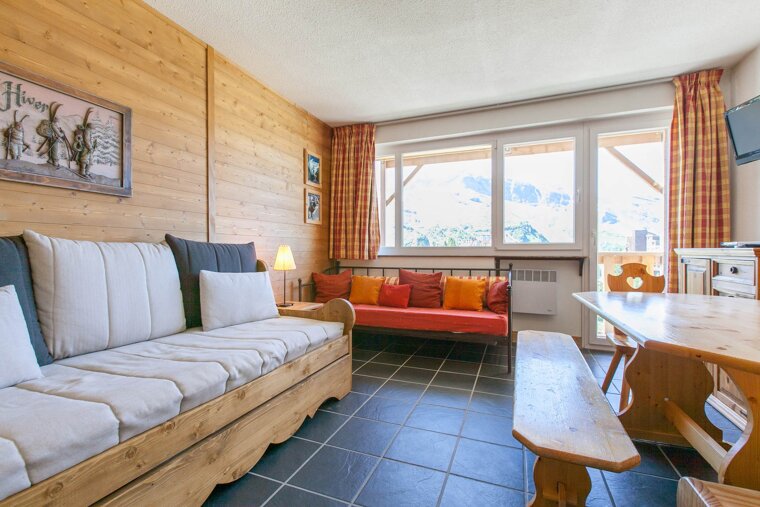 Cheap accommodation in Avoriaz
Many of the apartment blocks in Avoriaz, especially the older buildings, offer affordable accommodation within just a few metres from the pistes. This has made Avoriaz very popular among those looking for centrally located, budget-friendly accommodation.
What's the cheapest area to stay in Avoriaz?
As with luxury accommodation, cheap apartments are located all around resort. Studios will generally offer the lowest prices and many can sleep up to four or even six people. As for chalets, you'll find the best value in Les Prodains, near the lift that gives access to Avoriaz.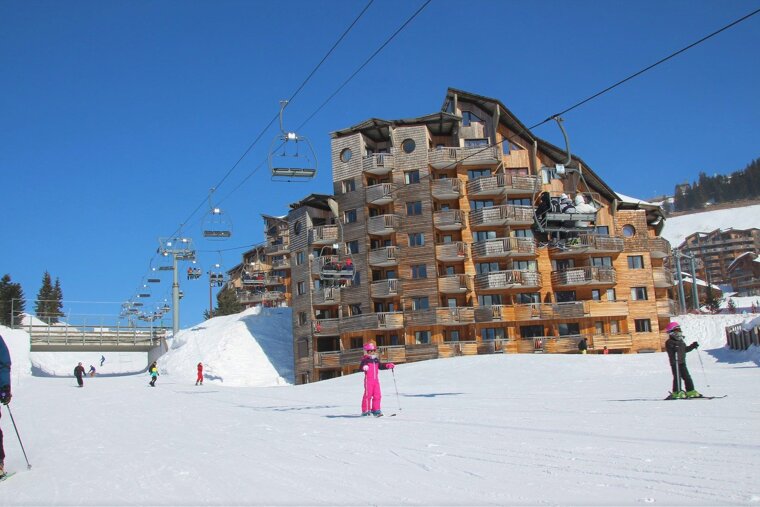 Ski-in & ski-out areas in Avoriaz
There's no greater feeling than arriving at your doorstep with your skis on and Avoriaz is the perfect place to experience it.
Where can you find ski-to-door accommodation in Avoriaz?
Almost anywhere! The beauty of Avoriaz is that, no matter where you stay, you can enjoy true ski-in/ski-out freedom. This was one of the main goals of the team of architects that designed the resort in the late 1960s, turning its car-free streets into ski runs.

Camping & glamping in Avoriaz
There aren't any campsites or motorhome areas in Avoriaz, or in nearby Morzine. The closest one is located on the outskirts of Montriond, about 10-minutes' drive from the Morzine tourist office. A bit further away you can find campsites in Les Gets that open both in summer and winter.