Camping equipment guide
What to bring on your mountain camping trip this summer
The quintessential summer outdoor activity and a great way to connect with nature.
Read on for our recommendations when putting together your gear for your next camping adventure.
Tents
For spending a night outdoors in the mountains, your behemoth family camping tent that has enough room for beds, tables and chairs etc is not what we're talking about here. We're looking at lightweight and durable, and for the tougher weather conditions it's worth spending a bit more for better materials and interior space. Backpacking tents are usually small to reduce weight and pack size, designs are usually tunnel or geodesic shape, allowing the best wind resistance, rigidity and stability in open areas.
Things to look for and consider:
The number of guests: Backpacking tents are usually made for just one or two people, but many two person backpacking tents wouldn't fit two wide sleeping pads. Consider how comfortable you are with tight spaces, it's common for tents to feel smaller than their capacity ratings imply.
The conditions: A summer tent will not be designed for harsh conditions. Three-season tents are the most popular choice, they can withstand downpours but won't sustain exposure to harsh storms, violent winds or heavy snow.
Assembly time: You don't want to be stuck in a rain storm as you're trying to put up a tent that needs an army to erect it.
Waterproofing: Nylon and polyester tents are waterproof, but sunlight can deteriorate them over time, check the seams are sealed, check zips move easily and don't catch and are non-rusting. A sewn-in groundsheet keeps out water and keeps the tent cosy.
Weight: You may be carrying your tent quite a distance, it needs to be lightweight. Backpacking tents are designed to be lightweight, and the lighter your pack, the more comfortable it will be and the more miles you can enjoyably hike.
Ventilation: To avoid a wet interior your tent needs to have ventilation available with the rain fly on, and the vents should be well placed. These also need to work to keep the bugs out.
Additional features: Number of doors, storage pockets, size and ability to purchase accessories/repairs.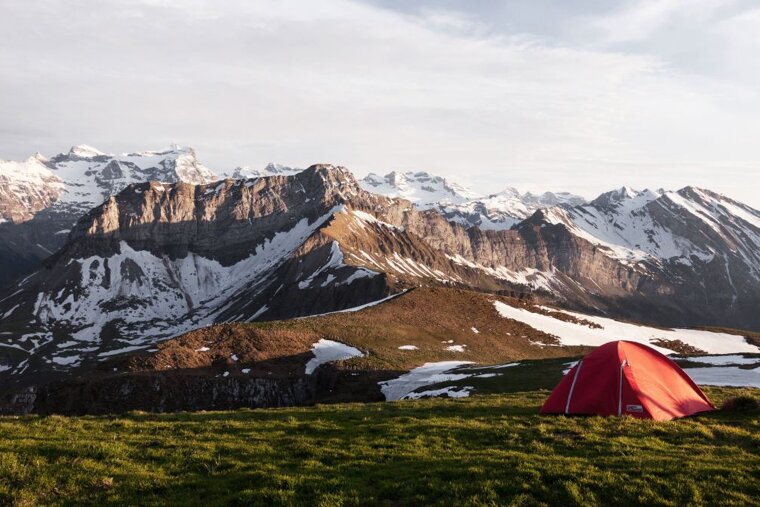 Sleeping bags
When you've been hiking all day, a good night's sleep is what you need to aid your body's recovery in order to be ready for what tomorrow may bring. When looking for the right sleeping bag for you there are lots of options. They can get pretty pricey, but it will be worth it for a bag that keeps you warm and provides a good rest, rather than waking up shivering in the middle of the night. A budget option is good if you don't backpack much or you're new to it, but for those who go often you'll want to be paying more for higher quality materials, a superior warmth-to-weight ratio and better packability. So what should you look for?
Warmth-to-weight: As this is going to be one of the heaviest items you're carrying, it's critical to strike a good balance between warmth and weight. When buying you'll see ratings - comfort rating indicates the temperatures at which a cold sleeper might feel comfortable. A season rating is used to indicate the time of year for which the bag is most suitable, corresponding to the four seasons.
Shape: There are three main shapes available
Rectangular - lots of space, usually bulkier and heavier.
Mummy / Form-fitting - minimal space, which may be uncomfortable for larger people and/or restless sleepers but warmer due to limited airflow.
Tapered rectangular - a combo of the first two, provides more space at the expense of more airflow but not as much as a full rectangular bag.
Women vs Men: Data on physiological differences between traditional genders has always shown that the "average" woman will feel colder in the same bag as the "average" man. So, women's bags use more insulation to reach the same temperature rating, and the comfort rating is often included on women specific bags. More insulation means more weight, even though they often aren't as long.
Down vs Synthetic: Insulation type is important. Down is light, easy to compress, excels in cold, has a longer life span, but it can be expensive, and is slow to dry when wet. Synthetic is quick drying, insulates when wet, non-allergic, less expensive and more robust, but is bulkier and heavier with a shorter life span.
Sleeping pad: If you're looking for the best sleep possible, then make sure you invest in a sleeping pad to go with your bag. Make sure it packs small and is lightweight.
Pillow: This may seem an excessive luxury, but can make all the difference between sleeping like a baby and tossing and turning all night. Whilst inflatable designs pack down small, foam pillows are compressible and generally more comfortable. We'd recommend you spend a bit more for comfort, low weight and durability, and look for washable covers, your pillow could be travelling with you for years.
Kids: If you're going to be camping out with little ones in tow, many brands now make sleeping bags for children that by being smaller, reduce the amount of airflow thereby keeping small campers warm enough to get a good night's rest.
Brands to look at for sleeping bags would be Eurohike, Berghaus, and Vango.
The final word on this is with so many options, take your time, do your research and consider the 'sleep system' (sleeping mat, clothes you'll wear to sleep in, pillow etc) you're creating to provide the most comfortable night's sleep.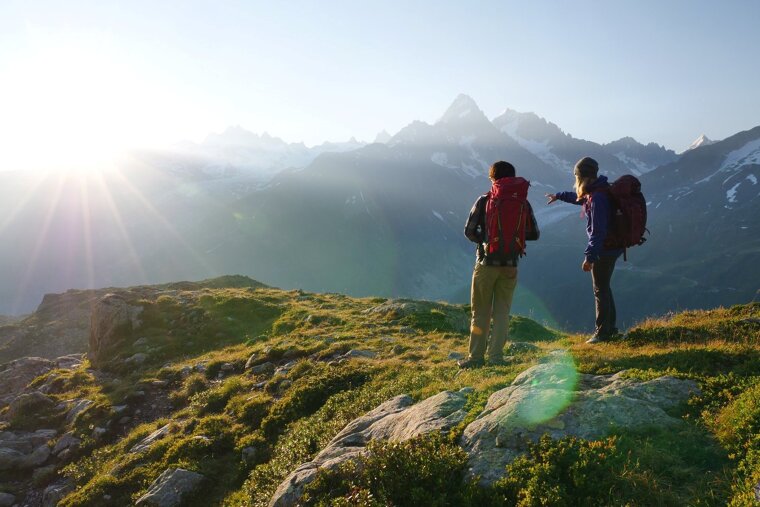 Backpacks
Having the right backpack is core to maximising your enjoyment of your time in the mountains. The perfect pack needs to have enough storage for all your essentials, not add too much weight and fit your body's curvatures. Trends today lean towards minimalism and clever design features.
Size: Backpacks are differentiated by size. Longer trips would be served better by a 60-70 litre backpack to ensure there's room for a sleeping bag, food, water and any other essentials.
Back panel: Usually contoured and padded. Foam channels improve comfort and breathability, some have suspended mesh systems for warm weather.
Hip belt: Needs to fit, and the bigger the pack the beefier the padding. It should come round the hip bones to ensure the weight is distributed evenly, try a couple on to see what feels most comfortable for you.
Shoulder straps: Changes with the size of the pack, again try before you buy if possible.
Sternum strap: Improves the stability of the pack and keeps the shoulder straps in place.
Additional features: Multiple compartments inside, hip-belt pockets, durable zippers, and waterproof construction.
Brands to look at would include Osprey, Jack Wolfskin, Arc'teryx, Black Diamond, Patagonia, The North Face.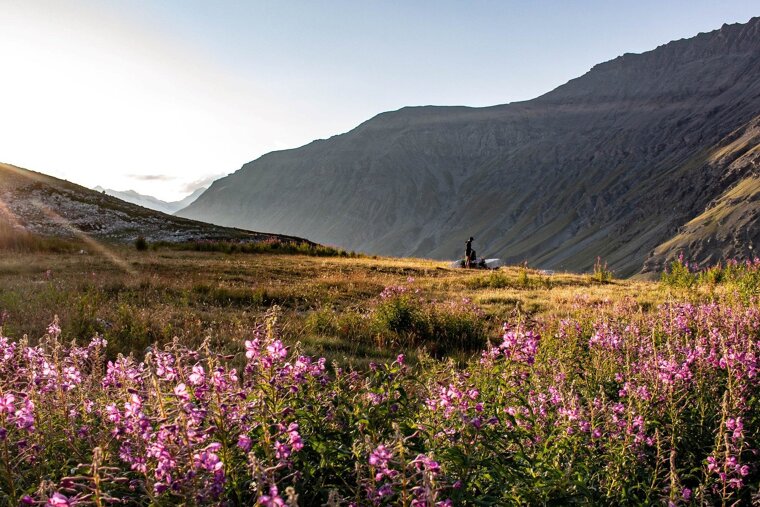 Accessories
Depending on how long you're planning on hiking and camping in the mountains will determine what you need to pack, especially when it comes to water and food.
Map and Compass: It's important you have studied the route you're taking and to have a map on hand in case you get lost. Nowadays you can rely on apps like Maps.me to help you navigate many hiking trails around the world, even the off-the-beaten-track ones, so install one on your phone and save the map of your area before you embark on your adventures. Make sure you have a compass app on your phone or pack the real thing and learn how to use it. Smart watches are a nice-to-have item that makes keeping track of your location easy, since most smart watches are equipped with GPS and maps. Great for real-time navigation, can also help record distances and track routes you may have taken previously.
Sandals: Essential for letting your feet breathe after a day's hiking. These can be clipped on or stuffed into your backpack.
Waterproof bag: For your clothes.
Head torch: As essential as your boots and a waterproof jacket, a head torch is your insurance policy for seeing your way home if nothing else. Make sure you keep the batteries well charged and carry a spare set just in case. Some hikers would even recommend carrying two: a small, lightweight 'emergency' one stored in your pack and only used if your main 'workhorse' headtorch has run out of juice. Well known headtorch brands include Petzl, Ledlenser, Silva, BioLite and Black Diamond.
Camp light: Petzl don't just make great headtorches. If you've space, pack their protective case for compact head torches that diffuses light when a headlamp is placed inside. The Noctilight hangs from the roof of your tent for improved lighting.
Burner with wind protection and matches: Primus made the stoves that Amundsen took to the South pole and Hilary took up Everest. Their Lite+ is their smallest ever, and comes with a pot as well as a burner. The pot, burner and gas canister lock together, there's even an inbuilt spark lighter, so you don't need matches. Best for hot drinks, soups or dehydrated camping meals, but it can also take a frying pan or saucepan, and it all packs up to the size of a small thermos flask. MSR's Pocket Rocket is a perfect option for backpacking, it simply screws onto the gas canister and folds down small enough to fit inside a camping mug, weighs just 73g and boils water in around 3.5 minutes. It also has a built-in wind shield, but there's no inbuilt lighter so you will need matches for this one.
Cutlery set/plates/bowls/cup: MSR don't just make stoves, they make a genius fold-up cooking set for camping with a utility knife, folding chopping board, spatula, spoon, pot strainer/cheese grater, moisture-resistant salt and pepper, dish brush and towel that all packs down to the size of a book. Its zippered case is easy to hang from your pack weighing only 64g.
Water bottle: Staying hydrated is crucial and there are so many options, from the bladder styles that attach in your backpack with a drinking hose and nozzle, to the ultralight collapsible designs and insulated aluminium bottles that keep liquids cool or warm. They range in size and most importantly should be lightweight. On longer hikes where you need to purify water from streams/lakes you can buy backpacking water filters, some bottles come with their own filter to clean up water from natural sources.
Food: Depending on how long you're going for, you'll need to provide meals and snacks to keep your energy levels up. Clif Bars are great and are sold in hiking shops everywhere and will certainly keep you going in-between meals.
Medic kit: Depending on the nature of your hike, what you take with you for emergencies will vary. If nothing else, you should be able to treat minor blisters, burns and cuts, which are all inevitable when hiking and camping. You can buy pre-made first aid kits from most pharmacies or local outdoor stores.
The items we'd recommend for your medic kit would include pain relief (ibuprofen, paracetamol, aspirin), anti-histamine, insect repellent, insect bite treatment, anti-diarrheal tablets, antacids, bandages and plasters (bring an assortment of sizes), safety pins, roll of gauze, medical tape, disposable surgical gloves, antiseptic wipes, antiseptic cream, hand sanitiser, tweezers, scissors, sunscreen spf50+, small roll of duct tape, and if you have room an emergency blanket (lightweight and will keep you/your patient warm if stuck in the cold).
Sunscreen: Part of your first aid kit, but also worth having a small bottle in an easily accessible pocket along with a lip salve, both SPF50+. Make sure you top up your coverage regularly, especially on sweaty days over exposed areas.
Toiletries: You know what you'll need, but essentials would include at least a toothbrush, toothpaste, hairbrush, soap, deodorant and a hanging toiletry kit is a great idea.
Camping chair: A bit of a luxury when you're travelling light, but Thermarest makes an excellent sleeve that converts their mattresses into a chair – these are great if weight and space really are at a premium. It's nice to relax in a proper chair, especially after a day of activity. Helinox makes super lightweight camping chairs that fold down small but still retain the comforts of a traditional camping chair. The Chair One is the benchmark chair in the Helinox range, weighs less than a kilo and packs up smaller than a bottle of wine. The aluminium pole frame makes for a sturdy and durable construction which is super easy to set up. This is luxury lightweight camping.
Swimsuit and microfibre towel: Super lightweight, so if you have room pack them for that cooling down session in a mountain river or lake.
Other items to include in your pack would be a spare phone battery/battery power bank, Swiss army knife/Leatherman multitool, whistle, loo roll, wet wipes, tissues, and a rubbish bag to ensure you leave no trace.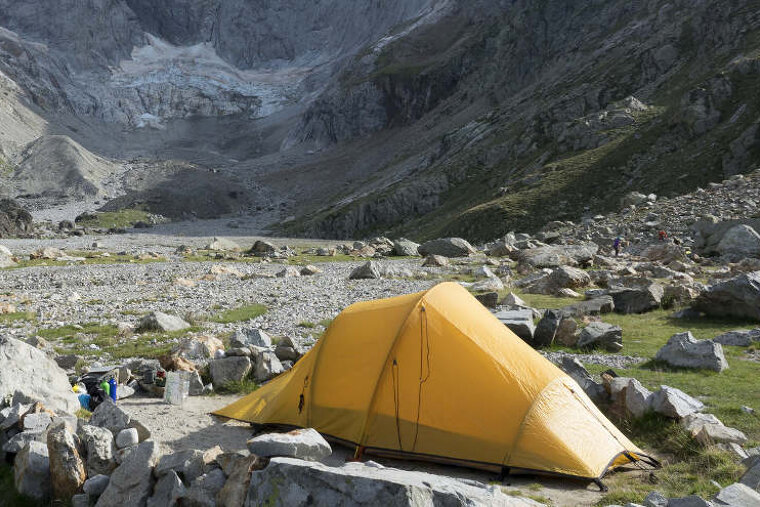 Permission to camp
If you aren't planning on staying in an official campsite, you should be aware that wild camping is not allowed under French law, unless you have permission from the land owner... a little hard to attain when hiking and camping in a mountain range for example. The good news is that wild camping, ie bivouacking with a light tent, is well tolerated in France if you follow a certain set of principles:
You are expected to stay in the same place for one night only, and to camp in a rural place. Don't camp in or near to villages or someone's farm, buildings or cultivated land.
Only set up your tent at dusk, and take it down at dawn, implicitly authorised between the hours of 19:00 and 09:00. Pitch your tent in a discreet spot.
If you're hiking a main trail, make sure your camp won't be in any other hiker's way. Avoid tourist areas with high traffic.
If you go to the toilet, do so away from water sources such as rivers, make sure you use a trowel to bury any human waste at least six inches under ground and take any used tissue away with you to dispose of in a bin.
And of course...take any other rubbish with you.
There are severe fines in France for free camping in national parks without permission, and even if you do have permission you could still be fined if you leave waste, damage the environment or are considered to be an irresponsible camper.