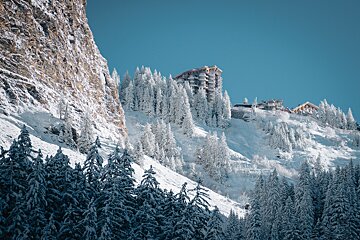 Avoriaz snow report and forecast
Discover the latest Avoriaz snow conditions
It's really beginning to look and feel a lot like winter out here in Avoriaz. Snow capped peaks once again dominate our winter landscape. It's getting so close to the start of a new ski season now, who's excited? We're excited to bring you an up to date snow report every week throughout the season.
This last week in November has seen extensive snow fall all over the Alps with more to come. The current snow depth at the top at the time of writing is around 60cm and temperatures in Avoriaz are hovering between +2 and -6 for the next few days, going down to a low of -12 during the weekend, so really cold but with a mixture of a cloudy and sunny weekend.
It is forecast to snow from Wednesday evening right through to Friday evening from about 2000 metres and above although the freezing level will drop to around 1150 metres by Friday evening. This will bring around another 40cm of snow by the weekend when the temperature will drop considerably. Light winds will accompany this new snow, making it feel colder due to the wind chill factor. This is good news as it's cold enough to hold the snow up there and to allow for the making of artificial snow on lower slopes.
Although the snow coverage is looking good, be aware that as this is early season the off-piste areas will not have been skied much yet, so not compacted and there is likely to be thin coverage in many places.
Avoriaz is partially opening early for the weekend of the 2 and 3 December, so those piste bashers are out there getting the slopes ready for your first tracks. The first planned event for the season is Snow and Rock for the official full resort opening weekend of 15 and 16 December.
Planning to visit?
Are you planning to visit Avoriaz during December? Check out our guide of what's on and weather in December.
Avoriaz is well known for great events and music festivals and this year is no exception. The season kicks off with Rock on Snow for the opening weekend. During the season you'll find a Freeride World Cup qualifier event. As Well as the legendary Rock The Pistes and Snowboxx events. Full details of all the events for Avoriaz this winter are on our Events page.
Have you got your ski pass yet? there are still early bird deals out there.
Here's a quick check list to prepare for your winter ski holiday - check all the links below, we've got you covered.
Updates
Scroll down to see live forecasts, lift status, links to webcams and above for real time photos from Avoriaz. We will be updating this snow report page every Thursday, so check back in with us next week to see how the pistes are doing and what you can expect from the snow forecast for the next seven days.
We need you!
If you're in Avoriaz this week, we want to see your images, especially videos, of what you've been up to. So when you post to Facebook or Instagram, please tag us @SeeAvoriaz #SeeAvoriaz. Every week, we'll be posting our favourite videos and images here and sharing on our social media, along with our weekly resort snow report.
Look forward to seeing you out on the pistes very soon.
Current Weather Conditions | Avoriaz
Updated 4 December 2023 at 15:01
Lifts & Trails | Avoriaz
Updated 4 December 2023 at 15:01
Lifts
Tph Prodains 3S
Open 08:45 to 17:00
Td6 Lac-Intrets
Open 09:00 to 16:15
Td6 Stade
Open 09:00 to 16:15
Connections
Morzine-Avoriaz Via Prodains Express
Open 08:45 to 17:00
Trails and activities
Bleue D'arare
Open 09:00 to 16:00
Bleue Du Lac
Open 09:00 to 16:00
Le Crot
Open 09:00 to 16:00
Stade D'arare
Open 09:00 to 16:00
Snowpark Arare
Open 09:00 to 16:00
Lifts
Td4 Choucas
Open 09:15 to 15:45
Trails and activities
Aller Chavanette
Open 09:15 to 15:30
Blanchots
Open 09:15 to 15:30
Bleue Chavanette
Open 09:00 to 15:30
Fornet
Open 09:15 to 15:30
Retour Chavanette
Open 09:15 to 15:30
Trails and activities
La Crete
Open 09:00 to 16:00
Lifts
Ts6 Tour
Open 09:00 to 16:15
Trails and activities
Dromonts
Open 09:00 to 16:00
Boulevard Skieurs
Open 09:00 to 16:00
Melezes
Open 09:00 to 16:00
Current Weather Conditions | Portes du Soleil
Updated 4 December 2023 at 15:01
Lifts & Trails | Portes du Soleil
Updated 4 December 2023 at 15:01
Lifts
Tph Prodains 3S
Open 08:45 to 17:00
Td6 Lac-Intrets
Open 09:00 to 16:15
Td6 Stade
Open 09:00 to 16:15
Connections
Morzine-Avoriaz Via Prodains Express
Open 08:45 to 17:00
Trails and activities
Bleue D'arare
Open 09:00 to 16:00
Bleue Du Lac
Open 09:00 to 16:00
Le Crot
Open 09:00 to 16:00
Stade D'arare
Open 09:00 to 16:00
Snowpark Arare
Open 09:00 to 16:00
Lifts
Td4 Choucas
Open 09:15 to 15:45
Trails and activities
Aller Chavanette
Open 09:15 to 15:30
Blanchots
Open 09:15 to 15:30
Bleue Chavanette
Open 09:00 to 15:30
Fornet
Open 09:15 to 15:30
Retour Chavanette
Open 09:15 to 15:30
Trails and activities
La Crete
Open 09:00 to 16:00
Lifts
Ts6 Tour
Open 09:00 to 16:15
Trails and activities
Dromonts
Open 09:00 to 16:00
Boulevard Skieurs
Open 09:00 to 16:00
Melezes
Open 09:00 to 16:00
Lifts
Tc Du Pleney
Open 08:00 to 16:30
Connections
Trails and activities
Lifts
Tc De L'essert
Open 08:45 to 17:00
Tk De Covagny
Open 09:00 to 16:20
Tk Follys
Open 09:10 to 16:35
Tk Grand Fremoux
Open 09:00 to 16:30
Tk La Corne 2
Open 09:00 to 16:00
Tk Le Lac
Open 09:15 to 16:15
Tk Petit Fremoux
Open 09:00 to 16:30
Tapis Des Lutins
Open 09:30 to 16:10
Tk A Corde Du Brion
Open 09:00 to 16:40
Connections
Abondance-Chapelle Via Navettes
Abondance-Chatel Via Navettes
Trails and activities
Brion
Open 09:00 to 16:45
Offaz
Open 09:30 to 16:20
Petit Covagny
Open 09:00 to 16:30
Petit Fremoux
Open 09:00 to 16:45
Boucle Des Plagnes (3.5 Km)
Piste De Luge
Open 09:30 to 16:20
Ludoffaz
Open 09:30 to 16:20
Corne Bleue
Open 09:00 to 16:15
Grand Fremoux
Open 09:00 to 16:45
L'ecuelle
Open 09:10 to 16:45
La Chaux
Open 09:00 to 16:15
La Variante
Open 09:00 to 16:45
Le Lac
Open 09:15 to 16:30
Les Follys
Open 09:10 to 16:45
Retour Village B
Open 09:30 to 16:30
Boardercross
Open 09:00 to 16:45
Corne Rouge
Open 09:00 to 16:15
Corne Noire
Open 09:00 to 16:15
Friend's Zone
Open 09:15 to 16:45
Abbaye
Open 14:00 to 17:00
Maison Du Fromage Abondance
Patinoire
Open 16:00 to 19:00
Telecabine
Open 08:30 to 17:00
Village
Open 15:00 to 18:00
Restaurants
Rest. Les Folly's
Open 09:00 to 16:30
WC
Connections
Crosets-Avoriaz Via Chavanette
Crosets-Avoriaz Via Grand Conche
Crosets-Avoriaz Via Mossettes Suisse