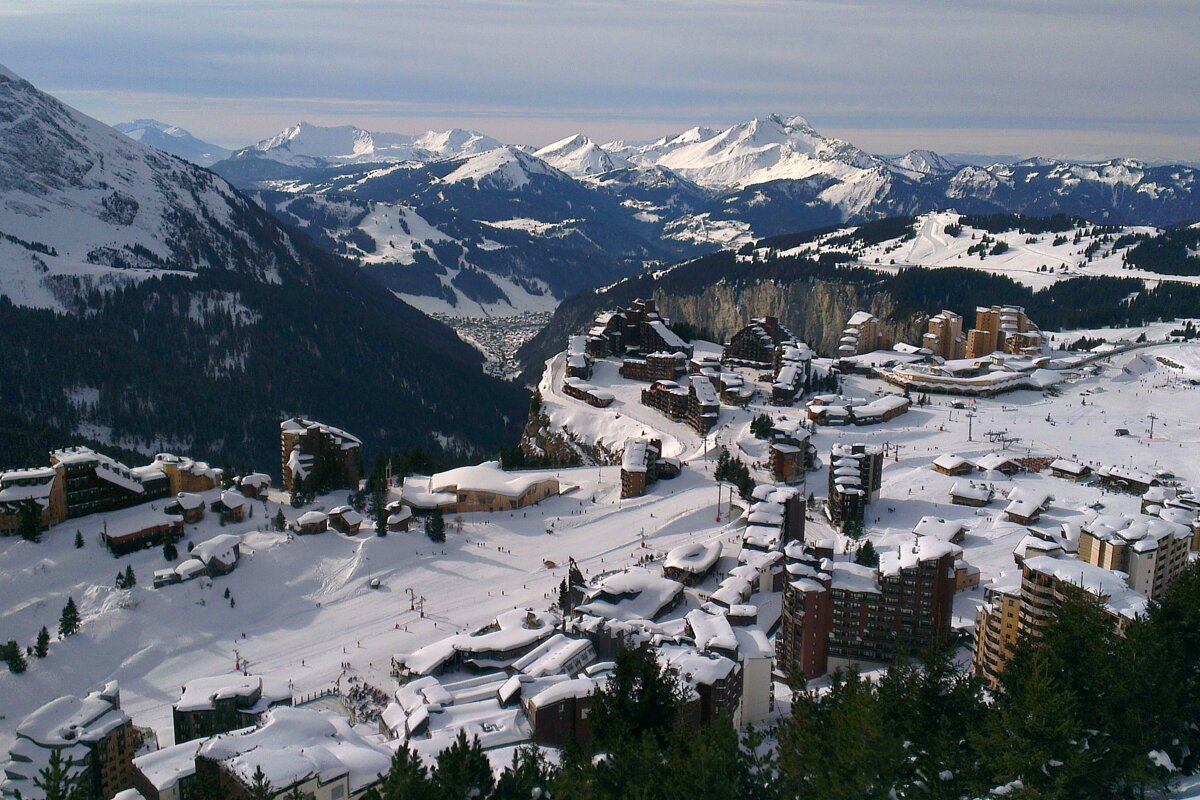 Ski Area in Avoriaz
Discover the best of the Avoriaz ski area
The famous resort of Avoriaz offers a wide variety of ski runs for all ages and abilities, from complete beginners to freeride experts, and is part of one of the largest linked ski areas in the world, the Portes du Soleil.
The main things to know about the Avoriaz ski area are:
Easily accessible
Located just 95km from Geneva international airport (1h30 on a good day) it's very easy to get here.
Great for families and beginners
A kids club in the centre of town and gentle wide slopes for beginners to learn on.
Part of huge interlinked ski area
Ideally located in the heart of the Portes du Soleil ski area, Avoriaz has 75.5km of pistes.
World-famous freestyle scene
Home to the legendary Burton-designed Stash snowpark and the Avoriaz Snowzone.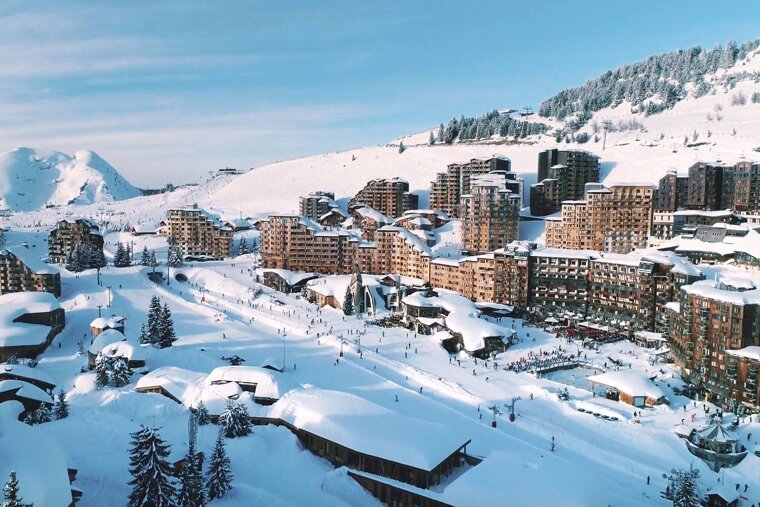 Avoriaz ski area
Avoriaz is perched 600m above the neighbouring ski area and town of Morzine on the cliffs above the valley Ardoisières. The snow-sure resort lies at 1,800m, its lowest point is 1,100m and 2,466m at its highest, and it's accessed by 17 chairlifts, two cable cars and 14 drag lifts (see the piste maps). There are four green pistes, 25 blue pistes, 14 red pistes and six blacks. In addition to this you'll find some of the best snowparks in the Portes du Soleil and a halfpipe.
What's it like to ski and snowboard in Avoriaz?
A man-made resort created in 1966, based on the dream of Jean Vuarnet (downhill skiing World Champion and Olympic Champion), that there could exist a resort with no cars that skiers could literally take over. Designed so that apartment buildings, chalets and amenities intertwine with skiable paths, the vehicle-free resort was born with the Prodains cable car inaugurated in March 1963. Snowcats and horse drawn sleighs abound here to transport you and your luggage to your accommodation, and then it's skis and snowboards on and off you go. The resort is more snow-sure than Morzine due to its elevation of 1,800m and snow lasts at village level for much of the season. You may experience some bottlenecks during the peak season; although the lift system is fast and there will be less traffic once you leave the lower runs to resort.
There is something for every level in Avoriaz:
High altitude skiing amongst stunning panoramas
Wide open pistes running through trees - perfect for families with skiers of all ages
Snowparks easily accessible for everyone
The vast Portes du Soleil
Powder hounds will love the Hauts Forts sector and the powder fields in Lindarets and Châtel. But Avoriaz is by no means exclusively for experts, it's also a great area for beginners and young families, with plenty of gentle pistes to cruise around. Avoriaz is famous for having some of the best snowparks in the Alps and is home to Europe's first freestyle park - The Stash, part of the Avoriaz Snowzone. As and when the snow is falling all around you there's always fun to be had, whatever your level of experience.
And if that's not enough, the Portes du Soleil ski area is vast with 426km of pistes spread across 13 different ski resorts in France and Switzerland. There are 286 pistes and 30 snowparks all accessed by around 200 ski lifts. In the whole ski area there are 34 green pistes, 119 blue pistes, 101 red pistes and 32 blacks, so you're sure to be able to find lots to suit your level of skiing or snowboarding.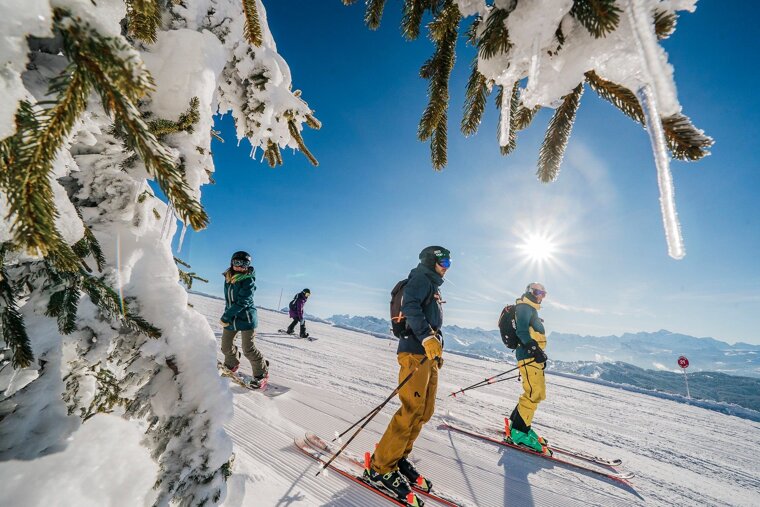 Morzine & Les Gets ski area
If you are a beginner it's unlikely you would leave Avoriaz to venture down to Morzine and Les Gets; it's quite a trip, but whatever your level it's a great place for all to enjoy.
Morzine
All of Morzine's runs are accessed by Le Pléney télécabine, where you'll find lovely wide, tree-lined pistes ideal for first timers and intermediates. Carvers will love the runs around Le Pléney, the reds above town are steep and there is a black run that has a steep drop off then plateaus adjacent to the lift line.
Further afield powder enthusiasts will revel in the slopes above Nyon and Chamossière, with the Pointe du Nyon sitting at 2,012m offering breathtaking views over the Hauts Forts, the Col du Cou and the ridgeline that marks the border with Switzerland. Nyon delivers steep runs with off-piste drops that dart in and out of the piste. There are lift accessible off-piste sections between the runs and it's easy to venture as little or as far as your experience allows, just don't head over the ridge line marked with denser trees unless you plan on freefalling to the valley floor. Worth a visit if you're over this side is the activity area at Pointe du Nyon, accessible on foot and on skis/snowboard; here you can discover the majestic Eagles and enjoy a unique aerial display, held at various times throughout the day.
Chamossière is smaller than Nyon, and not as easy to get to, but there are some top quality runs to be had from the summit; one an unpisted bump-strewn steep drop under the lift line, and the other a super steep, narrow run that widens near the bottom. A haven for off-piste/powder hounds, it can get tracked out quickly, but it's a big area and you can make multiple runs before you get anywhere near bored. Nyon also has its own snowpark, but it's unlikely you'd come here from Avoriaz - the home of freestyle - for it.
Les Gets
A very pretty ski area that is easily accessed from Morzine; tree-lined runs in the Ranfoilly bowl and stunning panoramic views from the top of Mont Chéry make this one of the best areas for cruising pistes with a backdrop.
There's a beginners zone with two magic carpets and a popular ski park for children with totem poles, teepees and American Indian decorations throughout. The immediate ski area has two lifts, but there are many more runs over towards the Chavannes Bowl, where you'll find an array of blues, reds and blacks, perfect for a day out with a mixed ability group. Mont Chéry, which sits on the opposite side of the resort, offers mainly reds down the face. It's south-facing and therefore tends to become slushy quickly especially later in the season. On the north facing side are two black mogul runs; Chevreuil and Mouflon, both of which maintain their conditions well owing to their avoiding sunlight for most of the day.
The black run Bouquetin is very steep, initially demanding as you leave the top of the Grande Ourse lift, it's characterised by a steep drop and moguls...fun for some (maybe). There are two runs that when the conditions are good are excellent; Gazelle (black) and Chamois (red). Both are return options back into Les Gets but require sufficient snow to keep the road crossings accessible. There are off-piste options over the Mont Chéry side of the valley, it's north facing on the back side and has some of the best views in the whole of the Portes du Soleil.
The main access points between Avoriaz and Morzine are the Super Morzine télécabine and the Prodains Express. The first is the simplest as the Super Morzine bubble sits in the heart of Morzine town, but in peak weeks be aware that the connecting chairlift, Proclou, gets very congested and has huge queues on the way back up. Alternatively, you can return via the Prodains Express using the free shuttle bus from Morzine.
Portes du Soleil ski area
There's a whole load of skiing to be done across the Portes du Soleil. Literally translated as 'Gateway to the Sun', the Portes du Soleil takes its name from a mountain pass that connects Morgins to Les Crosets.
Linga and Châtel
This sector of the Portes du Soleil ski area includes a good mixture of piste skiing for most levels. Whilst there are no black runs, some gently sloping powder fields are perfect for off-piste lovers.
Accessible via the TS Chaux Fleurie out of Linderets, the Linga ski area has steep reds that offer a real challenge for experienced skiers and snowboarders. The reds dropping down to Plain Dranse converge into one red run, Les Rochassons, with the exception of Les Voraches. There is some great off-piste, and nearly all are lift-accessible. From the top of the Chaux Fleurie or Rochassons lifts follow the ridge past the old chairlift, and after as short 10 minute walk you'll reach the summit. From here you can see Pré la Joux and Châtel in one direction, and Lac du Montriond in the other. Both sides of this ridge have great powder fields and are popular with locals after a dump.
If you continue further afield towards Châtel using the TS des Combes, you can do a top-to-bottom steep long run all they way into Villapeyron down the red Le Linga. If you want to explore this area further you can hop onto the Gabelou chair then onto the Portes du Soleil lift - it's a long ride which skirts you round the edge of Châtel, where you'll find multiple runs and a huge number of button lifts. Châtel also has a good freestyle park that includes an airbag and modules that were used in the Nike Chosen Series back in 2012. There are also some great powder fields to explore over here that don't tend to get tracked out, but be careful - there's trees and rocks to navigate. One more thing: remember to leave in time to catch the last lift back to Lindarets otherwise you're in for an expensive taxi ride home.
The Swiss resorts
The Swiss side of the Portes du Soleil ski area includes six separate resorts: Les Crosets, Morgins, Champoussin, Champery, Val-d'Illiez and Torgon - all of which can relatively easily reached from Avoriaz or Châtel. You'll find more snowparks, some steeper red pistes as well as the infamous Swiss Wall, the most demanding run in the whole ski area. If you head over here, ensure you leave enough time to reach the lifts you need to get home - taxis home aren't cheap.
Of the six areas Les Crosets is the biggest and is easily reached from the Lindarets valley. Take the Express Mossettes lift and drop down into Les Crosets, then head up the other side of the valley on the TS Crosets II where you'll find a big snowpark and a blue run that turns into a very long red run all the way down to Champery from the top of the TK Ripaille. If you then want to head home, drop down to the TS Chavanette, under which is the famous Swiss Wall, a huge un-pisted steep mogul drop - one mistake here and you'll keep going for hundreds of metres. Beyond a black, it's classified as an orange run, with 1km of skiing and a vertical drop of 331m, it really is a run for expert skiers only, and even then it's debatable if it's enjoyable or not.
In the opposite direction from the top of Mossettes lie Morgins and Champoussin. Head to Morgins first via the long blue run, get on the TS la Foilleuse and then head back up towards Champoussin for the last lift of the TS des Mossettes. Faster skiers will have time for a run or two at Morgins. There's more than a day's skiing over here but don't miss that last lift back to France.
Torgon is often missed out by tourists, and for those that can get there and back home in time for tea and cake, it's worth it. During the busy peak weeks it's often one of the few places with small queues and open, empty pistes. The views are spectacular off the back of the Morclan in the Châtel sector, and there is a freeride section under the Tronchey chair that is good fun when conditions allow.
St Jean d'Aulps
Although the St Jean d'Aulps ski area is part of the Portes du Soleil, it is not connected by pistes or lifts to the rest of the resort. A little-known secret, it's worth a look, particularly as a full area ski pass is valid here. Accessible by car, it's about a 20-minute drive from Morzine centre, and the skiing is suitable for mixed abilities, mainly constituting blue and red runs, with one black. The high points of the area are the Col de Grayon and Grande Terche at 1,800m each, both with long reds back down from the top.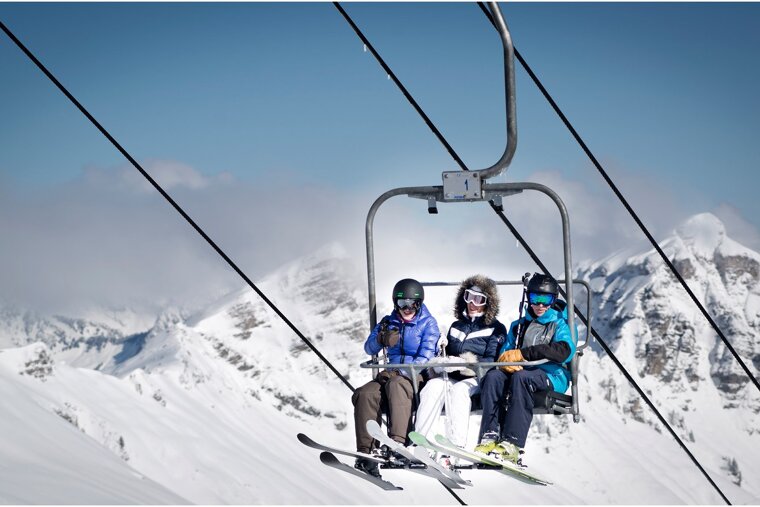 When is the ski area open in Avoriaz?
The winter season usually runs from mid-December to mid-April, with any early lift openings depending on snow conditions (check Ski Lift Opening Dates for this winter's schedule). Your holiday will be very much determined by the weather and snow conditions, and therefore the time of year you choose to visit is important. If it's sunny pistes and a cold glass of wine on a mountain restaurant terrace, come in March or April. If your perfect ski break is about quiet slopes and lots of fresh snow, then January is the time to come. Or if you want numerous activities organised for your children during their school holidays, February is for you.
Whenever you choose to come, as long as the lifts are open, the local pisteurs will make the best of the snow (real and/or artificial), and groom the pistes to perfection so that you get the best possible conditions.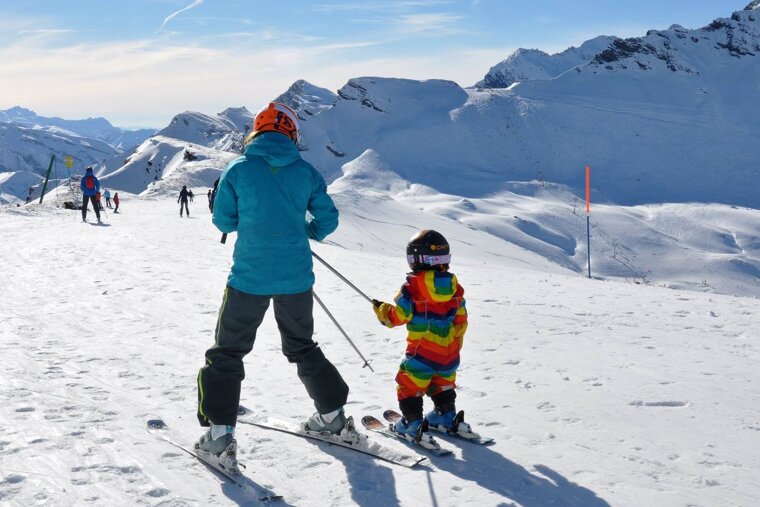 Beginners and family areas in Avoriaz
Avoriaz is an ideal ski resort for beginner skiers and snowboarders, offering a pass for access to the beginner areas only, saving you money on buying a full pass that you're unlikely to use.
And the selection of runs is exceptional. The Proclou slope is one of the best beginners pistes in town, it's wide and flat and runs alongside the Mini-Stash snowpark. Seraussaix is close by and is a mellow blue run set amongst the pine trees. Both of these runs are accessible with the beginners only pass. Plus Qu'mont and Gernues are both gentle easy blues where you can progress and gain in confidence, great for improving those skills you just learnt in your lesson.
True first-timers and those in ski school will start on the Ecoles piste which is serviced by two very slow drag tows. There's also a kids club in the centre of town, another beginner slope next to Le Chapelle Park and a range of blues that will suit an absolute beginner right the way through to someone wishing to improve, such as Stade d'Arare, Bleue du Lac and Bleue d'Arare A. These are some of the more demanding blues that are great if you're feeling confident and ready to move onto something a little more challenging.
Intermediates and above will appreciate the vast range of the Portes du Soleil, which has nearly 250km of reds and blues to choose from.
Advanced areas in Avoriaz
The Avoriaz ski area is famous for offering some tougher terrain with runs on the Hauts Forts and down to Les Prodains including the World Cup downhill course.
Hauts Forts
The Hauts Forts area of Avoriaz is a mecca for freeride skiers who enjoy long, steep descents. This can also be a great place to perfect your mogul skiing and really work those knees and thighs. There are multiple black runs dropping down to the TS du Crôt and onward to the valley floor, amongst them, the Coupe du Monde downhill course. For very steep (and long) black runs try Combe du Machon, Arête des Intrets and Combette. For those wishing to take a more leisurely but still exciting approach, drop down the Bleue d'Arare and onward to the home run of Le Crôt. Both are excellent runs and not as easy as you may think. The former is used for ski races and the latter does not see much action until the end of the day, so you can be relatively unencumbered by avoiding hordes of your fellow skiers and boarders.
The Swiss Wall
Anyone seeking to ski one of Europe's tougher mogul fields should attempt the notorious "Swiss Wall", linking France to Switzerland via 300m of some of the toughest bumps around. A huge unpisted steep mogul drop - one mistake here and you'll keep going for hundreds of metres. Beyond a black, it's classified as an orange run, with 1km to ski on a vertical drop of 331m, it really is a run for expert skiers only, and even then it's debatable if it's actually enjoyable or not. You can always avoid the nasty rectangular moguls at the top of the run by heading off to the side and then rejoin when they appear slightly gentler. There is another great mogul run directly out of Avoriaz under the Express Lac Intrets - Stade du Slalom.
Secteur Chavanette
Further afield, above Avoriaz, sits the Secteur Chavanette. This is a local favourite after a snowfall, as in addition to the wide bowl topography which offers big open faces, there are patrolled but unpisted areas featuring rugged natural terrain. Lots of little, and not so little, rock and cliff drops, natural gullies and a multitude of natural kickers form here, offering a chance to practise your freeriding skills. The area is served by two express lifts: Express du Fornet and Express Choucas, meaning you do not have to wait long to return to the top. The runs here tend to be longer than average for this section of the Portes du Soleil and are great for those wishing to get the leg burn going on a top to bottom run.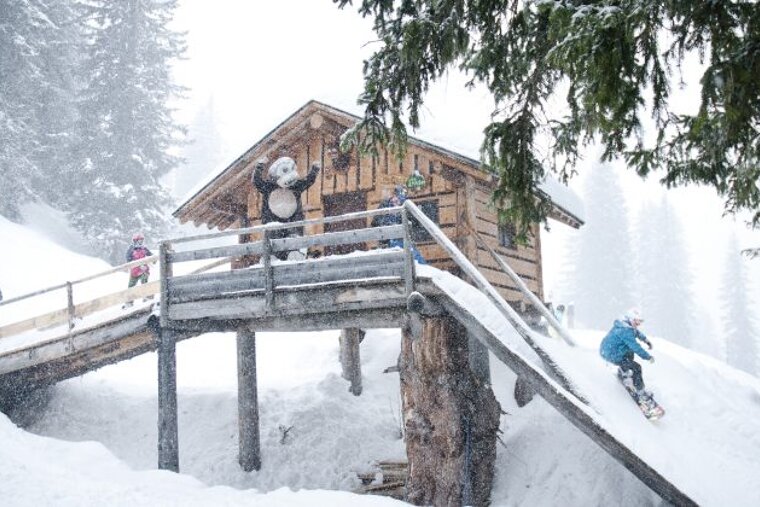 Snowparks in Avoriaz
Avoriaz was one of Europe's first resorts to welcome snowboarders with open arms, who brought with them a culture that has created a freestyle scene still running strong to this day. The majority of the Portes du Soleil snowparks are Avoriaz-based, where there are dedicated zones that all fall under the care of 14 design and shaping enthusiasts that make up the Avoriaz Snowzone team of experts. These experts shape and maintain the fun zones and snowparks of the area, sharing their passion for wintersports and enabling everyone to enjoy their creations whilst progressing within them at their own pace.
Avoriaz even offers a dedicated ticket package: The Park and Stash Package - a day pass giving access only to the Avoriaz snowparks. Ideal for park rats and enthusiasts who wish to spend their day here.
The Avoriaz Snowzone areas consist of:
The Stash: An ecological, fun snowpark designed by the famous Burton Snowboard brand, where more than 100 wooden modules are hidden in the Lindarets forest. Served by the Prolays six-seater chairlift. Level: Beginner/Intermediate/Expert.
L'il Stash: An enchanted forest where little Shreddie is hiding. Gas BBQ and picnic tables sit amongst suspended walkways, slides, ropes, sculptures and games to discover in the heart of the Proclou forest. Level: Beginner/Intermediate.
Snowpark de la Chappelle: An evolving snowpark for all, it's the perfect place to warm up, train and meet fellow jibbers. There are four routes of kickers of different levels (from XS to L), and two lines of jibs (small and large) with boxes and rails. It has a dedicated lift (La Chapelle). Level: Beginner/Intermediate/Expert.
Snowpark Arare: Created in 1993, this is a mythical place for experienced riders. Made up of two lines of tables (L and XL), and two lines of rails and boxes (M and L) as well as many other modules, such as a Big Air (large XXL table) and many other especially fitted out by the shapers. You have to take the Arare ski lifts as the dedicated lift no longer exists. Level: Intermediate/Expert.
Burton Kids Parkway: Snowpark designed especially for younger children, to teach the rules of using a snowpark: how to approach the modules and even how to fall in a fun, safe and interactive way. Located in La Falaise and accessible by the Trashers ski lift.
Superpipe: 120m long, 5.6m high, this beast is located near the 3S des Prodains Express with its own ski lift (The Surf).
Other things available to enjoy are five snowcrosses: La Frontalière, La Combe des Marmottes, Les Crozats, Les Brocheaux, and Le Pschott. Extra modules include the half pipe, the boardercross X (located near to the Arare snowpark), the skier cross (under the Choucas chairlift) and the Easy Boarder.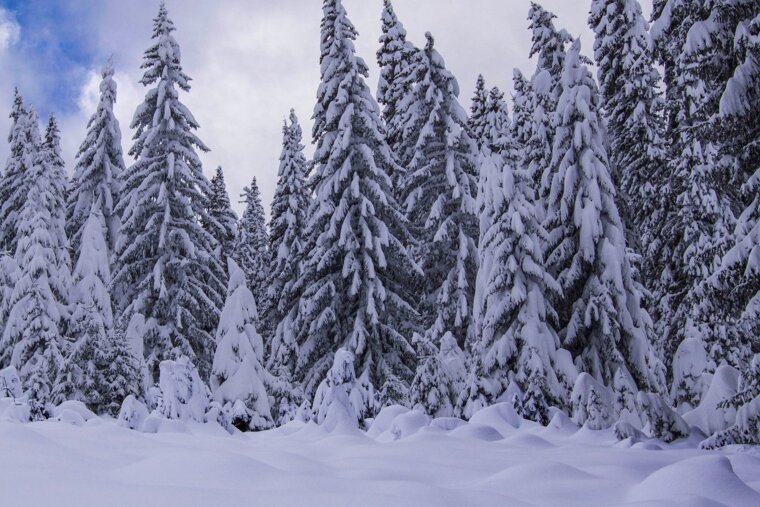 Best pistes in Avoriaz
Avoriaz works for you whether you're a complete beginner, an intermediate looking for simply beautiful, quiet pistes with great snow or you're into moguls, steep and long descents. The Avoriaz ski area has some of the best pistes in the Portes du Soleil.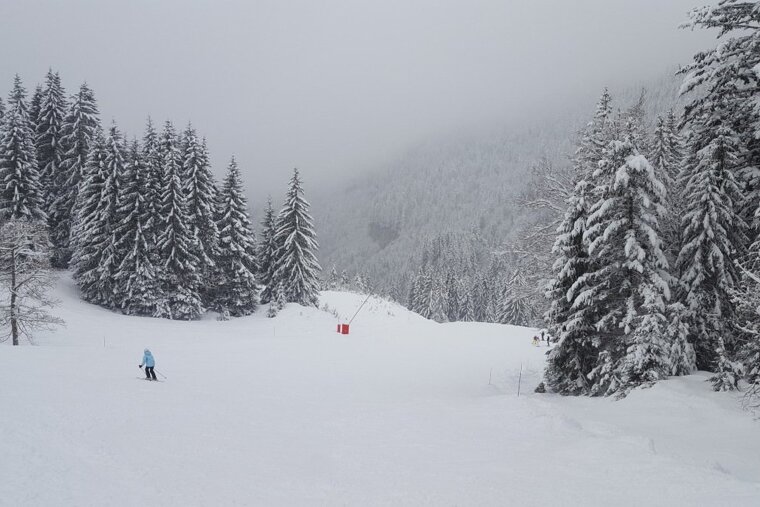 Off-piste areas in Avoriaz
There's plenty of off-piste to be found within easy reach of Avoriaz, and for those happy to put in a little bit of effort, you can reach the gentle open powder fields above Ardent, the big open face above Vallée de la Manche, the open pitch from Pointe de Nyon and the shoots and couloirs into Crosets.
Once in Avoriaz take the Express Lac Intrets to the top of the Hauts Forts and descend towards the Secteur Chavanette using the Bleue du Lac, ensuring you explore the little stashes to either side of the piste. Follow the Aller Chavanette down through the tunnel and you'll reach the foot of the Secteur Chavanette with a choice of two lifts to access the top; Express Choucas and Express du Fornet. The latter lift takes you up above the Canyon du Pschott SnowZone. This is a large un-pisted area characterised by multiple canyons, natural half pipes, cliff drops and kickers. It is one of the best areas to head for after a big dump of snow as the variety of terrain is immense and despite it sitting right in front of everyone on the lift, it does take some time during the day to become totally tracked out. The multiple lines down this area all converge on the aforementioned lifts making multiple runs easy. The Express Choucas provides access to similar terrain on the opposite side of the bowl and again the multiple lines drop you down to the two lifts at the bottom. The latter has less potential to run you down into a big cliff drop if you lose your bearing, but is demanding nonetheless.
To finish off your day in the Secteur Chavanette take the Express du Fornet and head a little further afield to the Vallée de la Manche. Watch out for the warning signs at the top indicating you are headed into a totally un-patrolled area and are therefore operating at your own risk. The traverse will be obvious, before dropping into the canyon du Pschott bear left and drop over the low saddle to enter the valley. This will give you access to a huge powder field with a huge drop, affording plenty of chances to put in the powder eights or big GS style turns complete with rooster tails. Just keep on following the obvious valley route past the old chalet building and onwards to the head of the valley road. If there is sufficient base then it is possible to ski all the way down to Morzine all though this does involve a little bit of poling, so probably not a popular choice for snowboarders especially.
Always make sure you are prepared before embarking on any off-piste skiing or snowboarding. Check out our Avalanche Safety guide for tips on what to do before setting off. It's always advisable to hire an off-piste guide who will have extensive knowledge of the area and the mountains.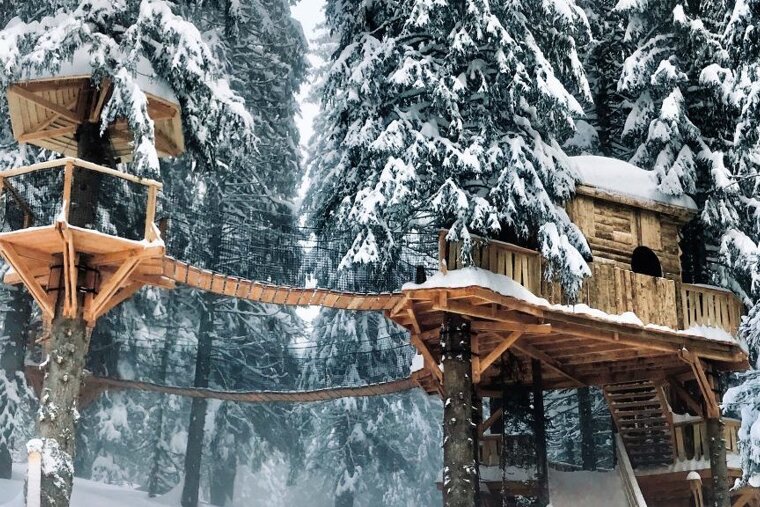 Bad weather ski areas in Avoriaz
There are certain runs that offer more contrast, providing vast amounts of skiing/snowboarding when the flakes are falling. The trick is to head for the pistes that are tree-lined; the trees help provide definition when everything else seems to be white. Luckily, Avoriaz has a great selection of tree-lined pistes meaning that you shouldn't miss a day on the mountain due to bad weather.
From Avoriaz the closest sheltered runs are down to the Secteur Lindarets and onward down to the Ardent gondola. The Stash snowpark is a great place to head to, lined by the Lindarets trees you can easily spend all day here without getting bored.
The Combe à Floret and Les Tannes are fairly enclosed runs offering shelter and multiple off-piste routes for the more advanced. Further along the same mountainside the Express Prolays lift opens up more reds and blues, again sporting multiple lines and cut throughs off the pisted runs. The edges of the piste throw up many opportunities to get briefly into the trees and back to the piste without running the risk of hitting demanding terrain further from the marked runs.
On the opposite side of the valley, the new express lift will take you up to the exposed Col du Bassachaux where you can avoid a white out by dropping down the multiple lines under and near to the lift line. Be aware though, some of these lead to smallish cliff drops, which can make this off piste off limits for the less experienced who would be advised to stick to the Grand Plan blue and the Chaux Fleurie red converging at the bottom of the aforementioned lift.
Don't ignore the home run down the TC d'Ardent, the Parchets blue, which although not a demanding run is extremely playful along each side of the piste and in bad conditions can keep you entertained for multiple runs without exposing yourself to a freezing chairlift in between runs.
More inspiration...
Take a look at this year's Ski Pass Prices or, if you're not sure which pass to buy.