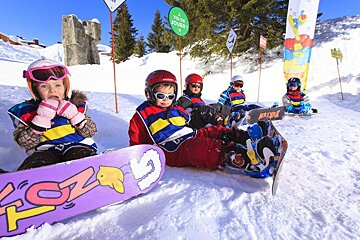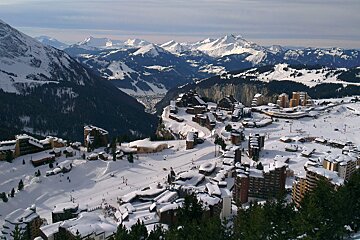 Beginner ski areas in Avoriaz
Discover the top Avoriaz beginners skiing
Avoriaz is well known as a family friendly ski resort and a great place for beginner skiers and snowboarders, thanks to its vast number of beginner friendly pistes.
The resort has a kids club in the centre of town, a beginner's slope next to Le Chapelle Park, 4 green pistes and 25 blue pistes. When you're ready to progress there are even more pistes to try in the wider Portes du Soleil ski area which has a total of 34 green pistes and 119 blues to help build your confidence.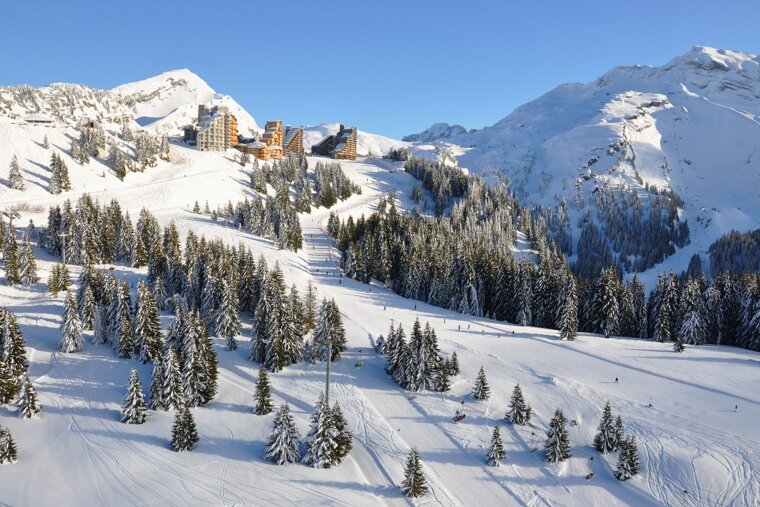 Best beginner areas
Avoriaz
First time skiers or snowboarders will start on the Ecoles or Dromonts pistes in the centre of resort, which are both serviced by two gentle drag tow lifts, to help you gain confidence slowly. Once you've mastered the basics, you can aim to progress onto the three green pistes nearby which are accessed by the Proclou, Seraussaix and Baron chairlifts. There are also four blue pistes in the same area; Proclou, Seraussaix, Qu'mont and Gernues, which are gentle and easy pistes, allowing you to progress and gain more experience. These pistes are great for improving skills and practising what you may have learnt in a ski lesson.
Avoriaz also has some more demanding blue pistes, which you should only attempt if you feel fully confident and ready to try something harder than the ones mentioned above. These pistes are Stade d'Arare, Bleue du Lac, and Bleue d'Arare A.
Morzine
Morzine is ideal for absolute beginners and advancing beginners alike, with 1 green piste at the bottom of the Pléney another one at the top and a children's zone where little ones can practise.
The TS du Belvedere takes you from the Pléney to the top of the green run enabling you to work on that snow plough after ski school. For those graduating to easier blues then there are lots of options; Piste B, Piste C, Piste D all head down to the bottom of the Pléney télécabine but Piste B takes the most leisurely and longest route down the mountain, meaning you'll not encounter any steep sections as you build your confidence. Piste C and Piste G are serviced by the lifts TS des Fys and TS d'Atray respectively and have steeper gradients for advancing beginners to work on their technique.
The Super Morzine télécabine and the adjoining Express Zore service two excellent blue runs; Tetras and Zore. The former is a little more consistent as the last section of Zore is quite steep and gets bumpy; both are long runs perfect for honing that technique.
Les Gets
Les Gets has a free ski zone for beginners which you can access from the top of the Chavanne chair lift and three green pistes nearby. The beginner zone has two "magic carpets" and a rope tow for transporting skiers.
There's also a fun, family snowpark for children in this same area. 'Le Grand Cry' is adorned with totem poles and American Indian decorations. It's a great place to go as a family, your children can try small tunnels and jumps and then get their faces painted in the main tepee. Don't be surprised if you see lots of little skiers with feathered head-dresses bombing around Les Gets.
Once you have a little more experience, you might want to practise on the long wide blue pistes from the top of the Chavannes chairlift. If you're gaining in confidence then continue on the Gentiane to the foot of the Chavannes Express for a quick ride back to the top, emerging next to the TS de la Croix. The Bruyere also departs from the top of the Chavannes and is for improving beginners. It takes a slightly different route back to the bottom of the Chavannes Express. On the other side of the Nauchet bowl (which you can access to the right of the top of the Chavannes) is the Rosta chairlift which gives you access to a slightly longer blue piste and also connects with the Turche piste and lift, which is also a really gentle piste to practice on.
Beginner ski lessons
If you're learning to ski for the first time, Avoriaz has plenty of choice of ski schools who teach children's ski lessons and adult's ski lessons. Children's lessons are determined by their age and ability, whilst adult lessons are determined by ability and interests.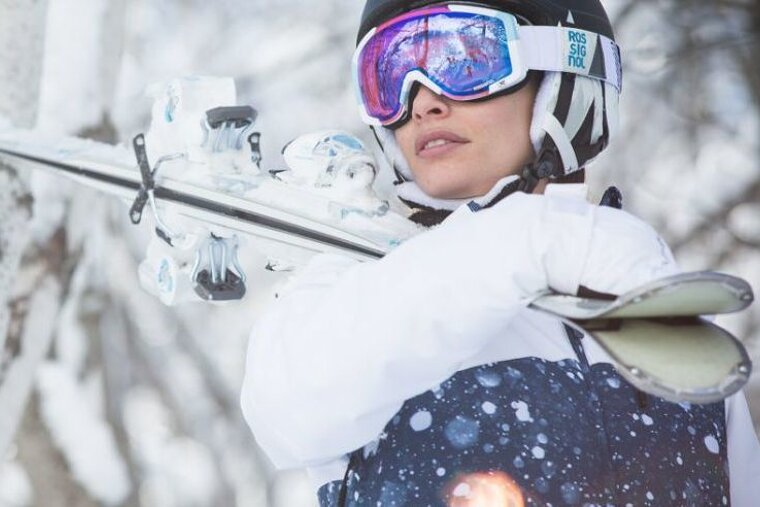 Beginner ski passes
If you're joining a ski school as a complete beginner, you will probably start off in the nursery areas where a ski pass isn't needed, practising on the slopes without using any lifts at all.
If you're a skier looking to progress after having already learnt the basics, you can buy a ski pass from as little as 5 hours. You should consider buying an Avoriaz only ski pass rather than the Portes du Soleil ski pass (which includes the neighbouring resorts in France and Switzerland).
The Avoriaz pass is available for 5 hours, 1 or 2 days or on weekends only. These passes will give you access to 4 green and 25 blue pistes, allowing you to build in confidence without travelling too far from resort. If you're looking to ski further afield or for more than 2 consecutive days, consider buying the Portes du Soleil full area pass.
Children under 5 ski for free - proof of age will be required at the lift pass office and you'll still need to collect a hands free pass to access the lifts.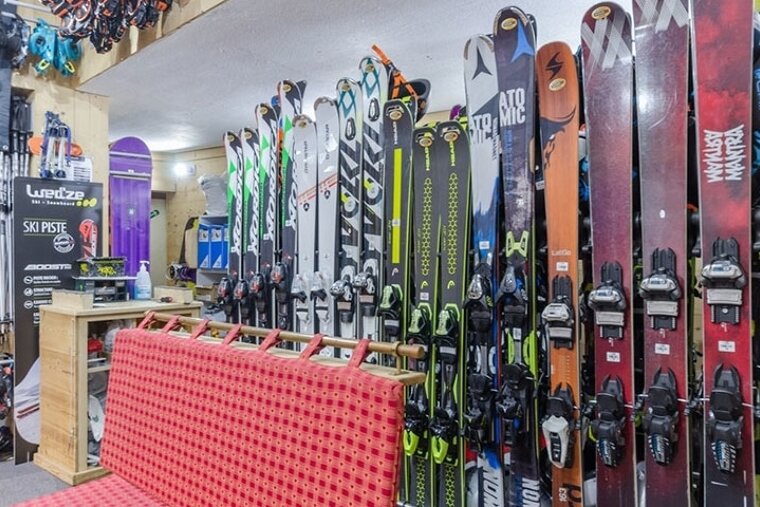 Beginner ski hire
Pre-booking your ski hire in advance allows the hire shop to prepare for your arrival and smooths the process. A key thing you should consider when booking your equipment is how close your accommodation is to the ski hire shop, or to the foot of the pistes for when lessons have finished. Even if there are several equipment options to choose from, we recommend you go for the most basic. Beginner skis are short, flexible skis that are easy to turn or, if you're snowboarding, you'll have a shorter stiffer snowboard that's easier to control and generally cheaper too. You won't need to know about the technical aspects of any of the equipment as ski hire shops will advise you to get the best model for your ability and size once you've booked.
What should I wear when skiing or snowboarding?
Buying all the gear before you go can be daunting if you've never set foot in a ski resort before. The key items to bring with you, along with the obvious ski jacket, ski trousers and sunglasses, are as follows:
Layers - thermal tops and leggings, fleeces, hoodies, hats and a good pair of ski gloves and a helmet. Weather on the mountain can change pretty quickly, and you are much better off wearing layers of thinner items as opposed to a big, bulky jumper.
Socks - a variety of socks ranging in thickness, it may sound weird but in our experience hire boots can be quite painful with the wrong socks.
Sun cream - even when it's cloudy the sun here can (and will) still get you, and don't forget the underneath of your chin as the sun reflects off the snow too. Don't forget a lip salve with an SPF.
Piste map - make sure to always have one in your pocket while you're out on the mountain. You can pick up paper copies from the lift pass or tourist office once you've arrived in resort.