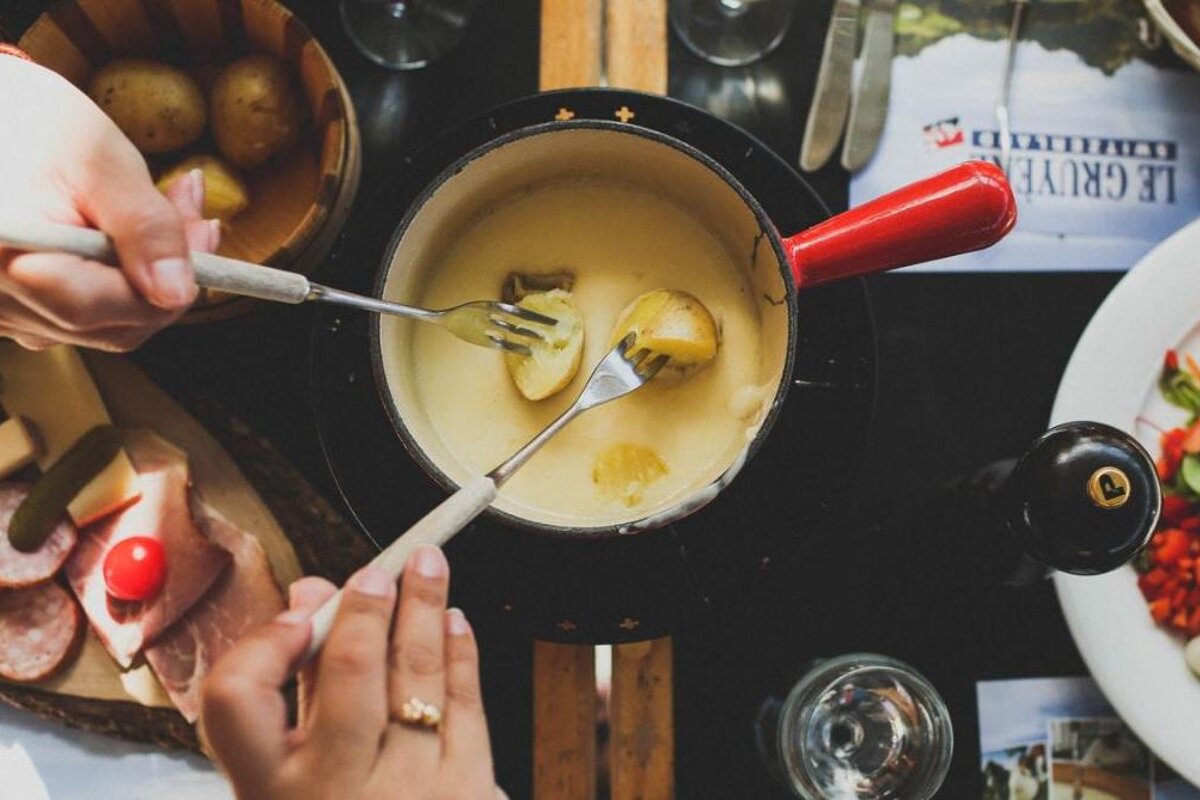 Best fondue in Avoriaz
Celebrate the enduring relationship between cheese & skis
We've come up with a delicious list of the best fondues for you to try in and around Avoriaz!
There are many things to love about this area of France; the mountains, the wine and the food are amongst them. Thanks to our location, being nestled right up close to our neighbour Switzerland, one of the finest dishes to indulge in out here is the famous cheese fondue.
The humble fondue was born out of French and Swiss minds in the 1930's, and since the 50's the term refers to any communal pot of liquid in which you dip food, such as bread, vegetables and meat. For the French, food is at the heart of many social occasions, and there's hardly a meal more sociable than this. Avoriaz is home to a number of great restaurants to suit every budget, appetite and group size. Most of these places have a Savoyard menu including a cheese fondue, but here we've found the absolute best of the best, so all you have to do is book a table.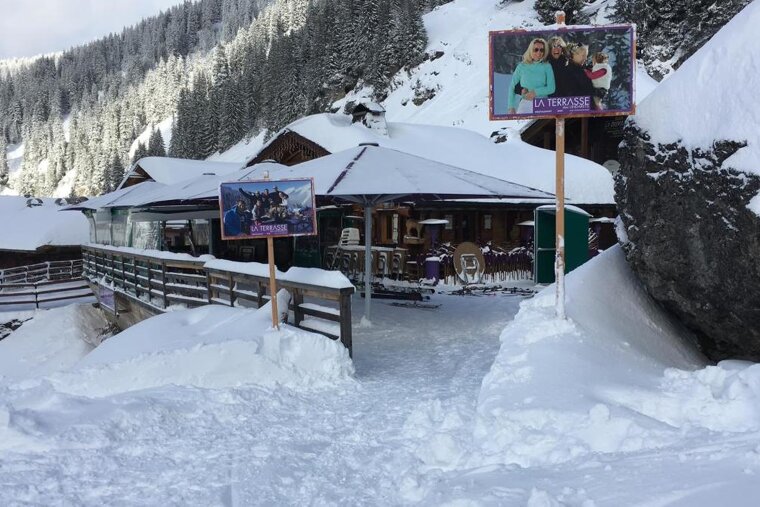 La Terrasse des Lindarets
La Terrasse is one of my personal favourites in resort. Tucked slightly off the beaten piste in the Goat Village below the Lindarets bowl, this restaurant is a bit of a hidden gem. The restaurant is a big traditional wooden chalet with a lively atmosphere and great music. It's the perfect place to go if you're out on holiday with a crew of mates who are here to party, or a corporate group here for the social. The cheese fondue on the menu is a must. Something about the flavour here makes it a standout dish, and when your pot is running low, the manager takes it out to the kitchen where the chef cracks an egg into the remaining cheese, and adds a little port to the mixture. It's little things like this that make it a winner. La Terrasse is open everyday from 09:00 to 17:00, the best time to go being late afternoon for a fantastic après vibe.
Best For: Great atmosphere and friendly staff.
Location: The goat village, top of Ardent home run.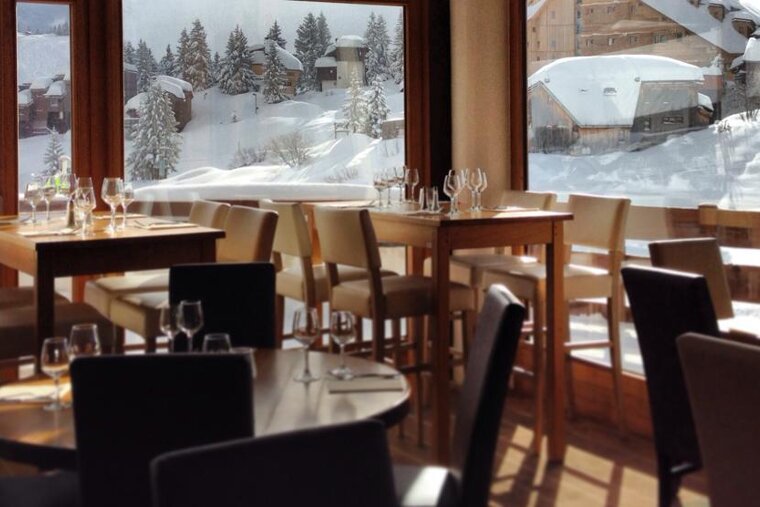 Le Bistro
Le Bistro is one of Avoriaz's more extravagant restaurants. Their menu contains traditional French dishes, as well as being one of the only venues in the mountains to serve sushi and cocktails. Although the prices reflect its individuality, their cheese fondue is cheap in comparison at only €20 per person. Served with the classic bread and charcuterie combination, you can't go wrong. If you are making it a slightly longer lunch, check out their fantastic wine menu. It is a very popular place to eat as it is located right on the slope into the town centre, so book a table in advance to avoid disappointment.
Best for: Splashing out.
Location: Town centre, behind Carrefour supermarket.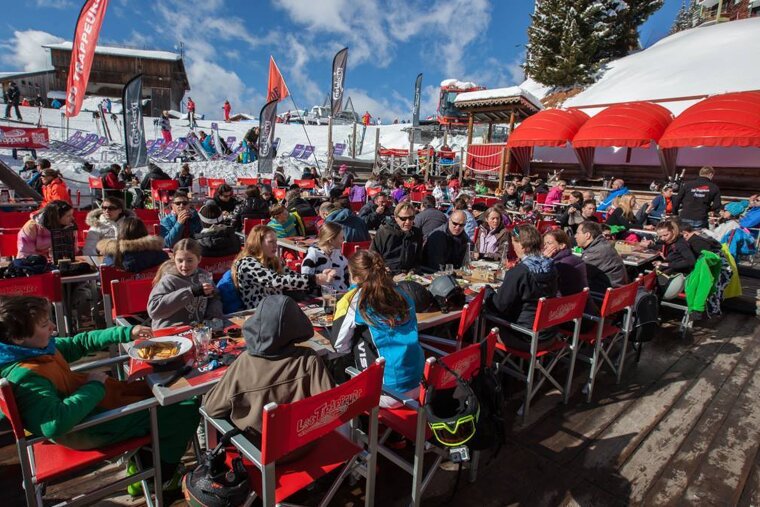 Les Trappeurs
Les Trappeurs is a fantastic bar and restaurant with a vibrant atmosphere located piste-side, just below the Prodains bubble. It's one of the larger restaurants in town with a huge terrace, as well as indoor seating. The terrace lends itself to those bluebird days when after a long morning of skiing, you just want to slide back into a deck chair and grin at the sun. The menu here will appeal to you if you're a foodie, as they have a mouth-watering selection of meat and fish dishes, as well as their Savoyard specialities. Their cheese fondue, served with a meat plate of local charcuterie is one of the best sellers, and reasonably priced at €26 (minimum of 2 people).
Their menu contains simpler dishes such as omelettes and burgers, which makes it a great option for families, and if you have some non-skiers in your group, the accessibility is easy. Due to the size of the seating area booking a table shouldn't be necessary, unless you're visiting in peak times such as kids' school holidays, Christmas, New Year or end of season. If you happen to be staying in Avoriaz for closing weekend in April, this is the place to grab your fondue, as they throw a huge party often with dancers and live music.
Best for: Bluebird days.
Location: In front of the Prodains bubble exit.
I feel that no ski holiday is complete without at least one fondue to refuel in true French style, so there are our winners, although really there are no losers.