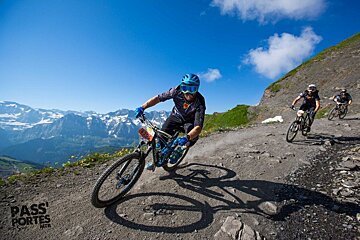 Pass'Portes du Soleil
Classic mountain biking event in the vast mountain playground of the Portes du Soleil
The Pass'Portes du Soleil event marks the beginning of the summer season. Three days of mountain biking across the Portes du Soleil, the classic circuit is 80km long, and includes 7,000m of downhill and 1,000m of uphill. Fifteen lifts give you access to eight different resorts, with some great riding along the way.
This mountain biking weekend sees cyclists of all abilities tackling the VTT routes of the Portes du Soleil. You can start from a number of resorts throughout the region and the route should take just one day so you can enter on either Friday, Saturday or Sunday (or all if you're a bit keen!) Refreshment points and marshalls ensure that everything runs smoothly so turn up and get muddy. However, the event is not about who can get round the fastest, it's to encourage everyone who enjoys riding to get out and explore some of the incredible biking terrain that the Portes du Soleil has to offer.
Watch this
What to see
The trails range in altitude from 2,250m – 1,000m and take riders through both France and Switzerland. All routes use the area's comprehensive lift network meaning that much of the uphill work is done from the comfort of a chairlift and all you have to do is enjoy the downhill. Riders tackling the full 80km circuit are rewarded with a whopping 6,500m of descent! However, if you prefer to earn your descents with a bit of uphill pedalling, then each route has an alternate section enabling you to get your head down and get a bit of a sweat on. Likewise, for hardcore downhillers, options are available to deviate off the main drag onto some steeper, more technical sections where you can really put those downhill bikes through their paces.
To ensure that everyone makes the most of the day, the lifts operate extended opening hours, allowing ample time to complete even the 80km circuit at a reasonable pace. It seems the secret to completing the full circuit in good time is to get on that first lift, otherwise you can get a little snarled up in the lift queues, as each gondola or chairlift can only take a maximum of two bikes at a time. There are refreshment points en route serving produce typical to the area – smoked hams, sausages, cheeses, raclette, Swiss chocolate, etc – you're never too far from a pit stop should your legs begin to flag. The other excellent thing about the Pass'Portes is that there are two fully equipped workshops on the circuit, offering mechanical assistance to anyone that needs a gear tweak or a squirt of oil. In addition, there are also roving mechanics on motorbikes to assist you throughout the circuit should you hit a problem. It goes without saying that you still should be equipped with the usual spare inner tubes and puncture repair kit of course, but at least you can rest easy that help is never too far away if you really get stuck.
For many people, one of the highlights of the Pass'Portes is the Bike Show – a MTB exhibition, where around 70 of the biggest brands in mountain biking (Kona, Sunn, Shimano, Scott, etc) all flaunt their latest kit and trends for the following year. The location of the show changes yearly as each resort on the main Pass'Portes circuit takes a turn to host it, although there are also entertainments and activities available in each participating resort. At the event, you can check out the very latest in bike technology for yourself courtesy of the numerous free bike tests, putting them through their paces on terrain appropriate to your ability and preferred type of riding (cross country, downhill, etc). As well as bike tests, you can also marvel at the skills of the pro riders in various competitions and demonstrations, such as dirt jumping and trail riding that take place during the event. Film screenings, music concerts and nocturnal activities also take place in the evening ensuring that when you do finally go to bed, you'll definitely be dreaming of bikes.
There is also a Pass'Portes Pedestre - a walking Pass'Portes event for those travelling with MTB Pass'Porters. Marked but not accompanied walks starting from five resort villages that will run in parallel with the main MTB event. Depending on the route, walkers can enjoy tastings at local farms, see some of the local wildlife, and learn about the Chablais Geopark from guides.
Whether you're an experienced rider or just getting into the pleasures of mountain biking, the Pass'Portes du Soleil is a great opportunity to ride some fantastic terrain, check out some new toys, eat raclette and mingle with fellow mountain bikers in truly stunning surroundings.
Entering
There is a women's competition, an e-bike special track, a night ride, a gravel track and Pass'Portes Kids (ages 9 to 14 years), and all riders must register in advance on the official Pass'Portes du Soleil website. Subscriptions go online early February, and if you want to set off from Morzine or Les Gets, the two most popular departure points, you need to get in quick as these places fill up very fast.
Helmets and gloves are compulsory for all riders but some sections of the trail are quite loose and rocky so you may want to consider additional protection too. Back protection, knee and elbow pads are recommended by the organisers.
Location